---
GET RID OF DIRT, ACNE, WRINKLES & BLACKHEADS
Blackheads are indeed our greatest enemy. Not only do they look dirty and oily, but are also very unfriendly to remove...
Clogged pores and blackheads can be managed at home, without scarring from picking and popping with your fingers.
Professional Blackhead Vacuum Remover is the ultimate solution for cleaner pores and healthier skin!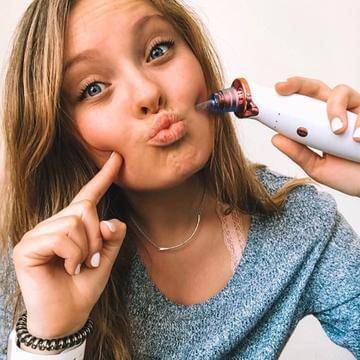 WHY YOU SHOULD GET A BLACKHEAD VACUUM REMOVER
Suffering from bad skin and having unsightly blackheads or acne is no fun, nor is looking old before you are ready!
If you want to be at your best for that life-changing interview, business meeting or date but your skin is letting you down, then your confidence won't be high when you need it to be.
1 or 2 weekly skin care treatments for only 5 minutes with our blackhead vacuum remover will result in a noticeable difference that you can see and feel!
Effectively sucks out impurities and dust particles from the pores. It removes grease, blackheads & acne instantly, resulting in absolutely glowing skin!

It also exfoliates dead skin, treats sagging skin and wrinkles, shrinks pores & makes your skin breathe freely again!

The gentle vacuum massage provides a firming effect by stimulating the skin's blood circulation to make you look younger!
Our Blackhead Vacuum Remover comes with 5 replaceable beauty heads, which offers different functions and are clinically designed to effectively cleanse pores for any skin area or skin type.
They can be used for massaging facial dermal tissue, eliminating aging skin, cleaning pores, removing blackheads, promoting blood flow and metabolism.
HOW TO GET THE BEST RESULTS
We recommend starting your treatment with a hot shower, using a hot steamer or placing a hot towel on your face for 3-5 minutes to open up your pores.
Choose a suitable head and press the power button, start with the lowest intensity first. Move the blackhead cleanser back and forth around the pores,
do not stay in the same place over 3 seconds
to avoid skin bruising.
Finish your treatment with a cold towel or mask to close the pores you just cleared out.
Optional: Apply a toner afterward to further shrink pores and a
pply your favorite moisturizer.